All of the music of these samples is improvisational
(the players simply pick up their instruments and start creating with no pre-arranged thoughts, feelings, communications, or structures), except "Autumn Leaves", the Alokli video, and "Adzohu Ago", a traditional Ghanaian (West African) all percussion piece at the end of the links below. There is a wide range of styles here. Note there is an excerpt from the healing and activation CD "Opening". Some lyrics are below all the song samples. All improv pieces copyright Christine Hodil.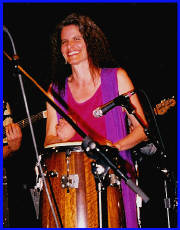 Sound Healing excerp
t from
"Opening"
CD:
"Opening" healing CD excerpt, 2:00
Videos
of Christine's singing interpretation of Minouche Graglia's paintings:
"Terra Madre 2012",
and
"Peacemakers, 13 Indigenous Grandmothers Council".
http://www.youtube.com/13 Indigenous Grandmothers Council
Christine with David Ervin, keyboards,'07 (Their first time playing together, informal, complete with a squeaky chair and people knocking on the door, etc!):
"Part !: "Classical ???", 3:30

Jazz standard, live with the Valley Jazz Quartet, Dec. '06

"Autumn Leaves", live, '06. 1:25

Solo:

1999 - 2000, Christine with Pat Fitzgerald, piano; Phillip Swartz, box drum; Scott Railsback, didgeridoo and voice; Mariah Parker, synthesizer and hammer dulcimer:
Fun song (One of Christine's favorites...rock style with a long intro):

Sweet or meditative:

A more raucous style music:

Not your usual toning:

VIDEO from 1986, Christine playing traditional percussion from Ghana with ALOKLI. (She is on the left, playing kagan.)


And for a sample of "Alokli", traditional drumming from Ghana:
Coming.... videos of Christine as she sings interpretations of paintings by Minouche Graglia: Peacemakers: The 13 Indigenous Grandmothers, Gaia's Womb, Terra Madre, Heart Consciousness.
"HOW CAN I GIVE MORE". How can I give more of all that I'm made of? How, there must be a way. Oh yes there is. I know it. I know it. It's just a matter of time, of time. Always a way to be clearer; The hands are open and pure. Give it your best, don't let it rest until it's all open for sure. Always the same place we travel amidst the clouds. Why go anywhere else that might make us sad or bereft of our hearts? Open the door, don't be afraid to admit to the pleasure that you are. So come on in. Set yourself down for a spell.

"IT'S ALWAYS THERE". There is anger in a newborn's cry. There is salvation if you know what to ask. There is freedom in the great blue sky. There is always a way, you can ask me how, 'cause I know what's underneath it all. There is life gestating under everything you see, even chairs you sit on. There are sighs inside everything. It wants to be free, to be free. Free. There is laughter between my toes. There are lots of things to do, more than you know, yeh. Don't stop now; be it all, be it all. The sweetness of light inside us now, inside us now. Pathways to heaven are right there inside your mind. Climb those stairs and follow through and see what you, you can find. It's the end of it all. All the struggle, all the grief, all the crying and screamin', all the pain, all the torture , all that strife. Open up to the delicious sweet joy that's always been living inside, always inside. It's always there, always there to touch and feel it so deep, always, always so deep inside."

"WE"RE ALIVE!". Oh alive. We're alive! We're alive! Ah! Yes we are, yes we are I know. I think I know why. It's the experience, the experience, the experience. No we weren't given any manuals of how to do this thing. No no no no... Must be for the experience oh oh yeah. Did anybody ever tell you why you have this body. I know some people would say it's just to have fun and experience all the pleasure that they can find and I bet that's a' right for them, maybe, well, maybe, who knows? Who's God here? Hmmmmmmm. It's the experience! I think that's why we came here now. Do you think there could there be any other reason? No. Growth opportunities. I know I've been here before, slightly different circumstances. It kinda feels familiar that squeezing, oh, limitation. Oh where's that manual, I wish someone would give me a manual, don't you? I mean really, a manual that says, "This is what it takes to be a man." Not all that sh*t handed down to you by your father.. "This is what it takes to be a woman." You know, not all that sh*t handed down to you by your mother. It's amazing anybody's sane. Don't you agree? I think it's amazing that anybody's sane, looking around here. But It's the experience. Yah.It's just that dance of breath, and fluids, and sleep, and awakeness, wakefullness. And as Jimi Hendrix said, "Have you ever been experienced too? Have you ever been experienced too?"

"HAVE YOU EVER BEEN AWAY". Have you ever been away from someone that you love? Have you ever felt the pain of separation? There's a feeling that still lives on inside where you know there is no outside. With the heart yearning, with the body yearning, with the mind yearning yearning yearning. Go deeply within; once experienced always there. No separation, no separation. Just a part of me, just a part of you....never goes away, never goes away, never goes away...

"ALL MY LOVE" All my love. Light a'circling, caressing all it sees. All my love, bringer of joy, dancin' the way it feels. Always moving and tumbling past the old ground it once knew. Raptured and mingled with the sight of you. Always new, always part of me. Never alone, no never alone. No empty spaces, no lost energy. Always moving deep inside of me. So deep, so deep inside of me...