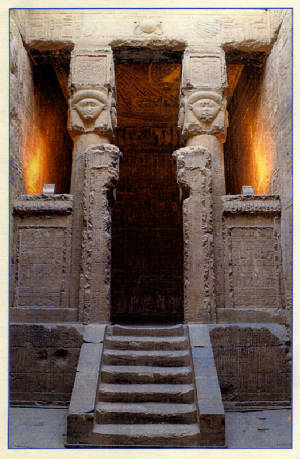 HATHOR TEMPLE, EGYPT

INITIATION and ANCHORING
"For centuries we have been living a life we might term counterfeit. We have been exploring what it means to be in duality, polarity, and separation. It is now time for us to step forward and become that which has been held as the Truth of our being, that which is the Christ, the mystical union with the Divine with balanced masculine and feminine principles.

While in Egypt at the Temple of Luxor in January of 2001, I was asked by Source/Spirit if I were willing to embody the Divine Template. After some discussion with the guardians of this wisdom, I agreed. For the next 2 hours I was led step by step into the temple as the cellular structure of my physical and metaphysical bodies changed profoundly. Since then, the Angels of the Covenant have been with me to help train me in the ways of Union and to keep the sacred initiation intact. I asked Rev. Momma Lucas, the wonderful faith healer who ordained me, what the Divine Covenant meant to her. She said, "Everything. It is everything that God can give you."

We are now helping disseminate this blessing to individuals and groups with the assistance of many fabulous, loving ,and wise Masters who have agreed to oversee this work. Not only are we doing this for ourselves, we are also acting at the behest of Gaia who is hungry and waiting for these new (yet old) energies to penetrate into this world and be anchored into the very matter of which we are made. The time is now to realign the grids of our reality base with these wonderful energies as we evolve into the ultimate of what humankind can become."